Have you ever heard bout
TAP SONIC
before? LOL. If you have ipod/iphone/ipad, you should be familiar with Tap Tap Revenge. Well, Tap Sonic is like the Korean version. Quite similar, but it has more FUN in it. PLUS, it has loads of KPOP
(well yes of course, lol)
Here's the screenshots:
The cool thing is we can SLIDE beside TAPPING it and so far I love it!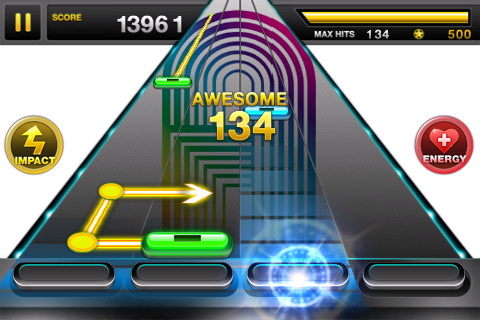 The application is available for FREE, but UNFORTUNATELY, it's for KOREA REGION only.
So... in order to get that application installed, we have to make a
KOREAN ACCOUNT
on iTunes Store. Here's how:
QUOTE
Now let's PLAY!!!
There are FREE SONGS for you to start. And since it's FREE, it's not a FULL song
2PM - Open Happiness
Dalshabet - Supa Dupa Diva
Dalmatian - Geu Nam Ja Neun Ban Dae
Rainbow - A
...and more
If you want to play another song, you should PURCHASE MUSIC POINTS
HOW IT WORKS?
Imagine that you're in a Game Center and you've got to buy CREDITS
(or top-up your card)
in order to play. Here, we call it
MUSIC POINTS
.
It's a PAY-PER-PLAY game after all.
HOW TO BUY MUSIC POINTS?
1000 MP / USD 0.99
5,000 MP / USD 4.99
10,000 MP / USD 8.99
30,000 MP / USD 24.00
Just edit your "KOREAN" ACCOUNT and click on the box below your USERNAME/APPLE ID
Follow the rest below:
Additional guide (just incase). I forgot where will this pop-up >_<
http://img411.imageshack.us/g/img0445t.jpg/
NOTE: ENJOY THIS APPLICATION AT YOUR OWN RISK!!!
Becoz we're making a "FAKE" Korean Account and when you purchased the MP, you put your Credit Card number there. But so far... I didn't get any warning or whatsoever. LOVE THIS GAME SO MUCH.
LAST WORD
- This game was developed on JANUARY 2011 so it's still NEW and might have some bugs/problem
- Bugs/problem might be different from each other (me, Im not seeing any problem yet ~ but I read some people been complaining)
- Keep on checking FREE SONGS ^_^
- I believe they'll put ONEDAY one day and I can't wait to play that!! YAY!! :D
Image Credits: Korean Dude
Written by: msbee
MAYBE TAKEN OUT WITH FULL CREDITS

If you have questions, just leave it here. I'll try to answer it as long as I can. LOL.
You may tweet me @_msbee on Twitter if you need quick answer