I AMs, where you at?! :D We're working on developing our 2OD summer merchandise line! The other items are top secret for now ;) but 1 thing we need to make for sure are 2AM wristbands! For 2PM's Hands Up Asia Tour, we made wristbands, amongst other things that were awesome! Check 'em out below:


This is what they looked like: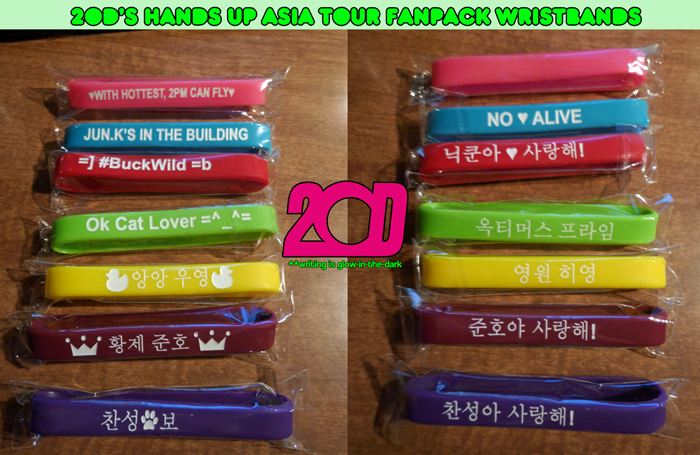 The red one says: Nichkhun-ah saranghae! (I love you!)
The green one says: Oktimus prime
The yellow one says: leftside - Yeongwonhi Young (forever Young, a play on Wooyoung's name) rightside - Ang Ang Wooyoung
The maroon one says: leftside - Hwangje Junho (Emperor Junho) rightside - Junho-ya saranghae (I love you!)
The purple one says: leftside - Chansung PAW-bo (Chansung pabo) rightside - Chansung-ah saranghae!
So pretty much we can add any little symbol, in any language! :D Suggest wristbands for: Changmin, Seulong, Jo Kwon, Jinwoon and 2AM/IAM themed. If your idea is chosen, we will give you a free set of 5 2AM wristbands once they're made later this summer!
Leave your ideas below, feel free to suggest as many as you'd like~ the more creative, the better! :D